Dear ,
Great theatre and great food awaits you in Uxbridge!
Coming this January is Oklahoma!
January 18-27, 2018
Rodgers & Hammerstein's first collaboration remains, in many ways, their most innovative. Set in a Western Indian territory just after the turn of the century, the high-spirited rivalry between the local farmers and cowboys provides the colorful background against which Curly, a handsome cowboy, and Laurey, a winsome farm girl, play out their love story. Although the road to true love never runs smooth, with these two headstrong romantics holding the reins, love's journey is as bumpy as a surrey ride down a country road. That they will succeed in making a new life together we have no doubt, and that this new life will begin in a brand-new state provides the ultimate climax to the triumphant OKLAHOMA!
All tickets are $24.00 and include taxes, ticket fees and Music Hall Improvement Fund.
Click here to purchase tickets!
Then in February we've got: The Drowsy Chaperone!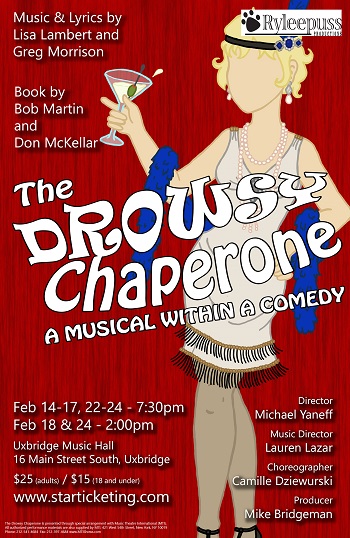 February 14-24, 2018.
Bursting with show-stopping song and dance - this Canadian musical parody & five-time Tony Award winner whisks audiences away on a Jazz Age journey of love, laughter, and libation.
Alone in his modest, one-bedroom apartment, a musical theatre fan puts on his favourite cast recording. As the record spins, the colourful & chaotic characters of a fictitious 1928 musical spring to life – filling his living room with all manner of movie stars, gangsters, divas, and more.
"A deliriously witty love letter to musical theatre... funny, energetic...graced with talent galore."
- Vancouver Sun
All ticket prices are: $25.00 Adults, $22.00 Seniors, $16.00 Students and include taxes, ticket fees and Music Hall Improvement Fund.
Valentine's Special: 2 tickets for $35.00 including taxes, ticket fees and Music Hall Improvement Fund.
Click here to purchase tickets!
Other great shows are coming to the Uxbridge Music Hall including: Abbamania, Uxperience: Battle of the Sexes, High School Musical, Wendy's World, The Last Waltz and Done to Death. Check out all of the great shows right near you. And maybe even make it an evening with dinner and then theatre by visiting one of the many great eateries in Uxbridge including: Urban Pantry, Laura's Casual Kitchen, The Tin Mill, Hobby Horse Arms and many others.
Visit: www.uxbridgemusichall.com for more great shows and to purchase tickets.
We're looking at building our list. Have a friend who would like to know more about the events happening at the Music Hall? Forward this to them and ask them to Subscribe to this awesome (monthly) newsletter.
Copyright © 2018 Uxbridge Music Hall, All rights reserved.
You are receiving this email as a special offering to patrons who opted in when purchasing tickets for production(s) at the Uxbridge Music Hall which was processed via StarTicketing.
To Modify or Unsubscribe from offerings and emails sent from the Uxbridge Music Hall, please Click here to: {modify}Modify your Subscription{/modify} or
Unsubscribe
Uxbridge Music Hall
16 Main St. S.
Uxbridge, ON. L9P 1H1
905-852-6761 (rentals)
866-808-2006 (tickets)