---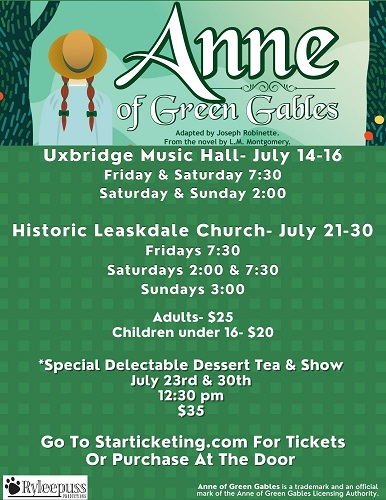 Anne of Green Gables
Ryleepuss Productions presents Anne of Green Gables at the Uxbridge Music Hall.
All the tragedies and triumphs that mark Anne's growth from adolescence to early adulthood are here: her friendship with Diana, her feuds with Gilbert, her adoration of Matthew, the mistaken wine bottle, the cake disaster, the broken leg, the scholastic achievements, and the saving of Green Gables. Whether the playgoer is an "old friend" of Anne's or meeting her for the first time, this play will solidify a lasting friendship between the audience and one of literature's most unforgettable characters.
All tickets are: $25.00 and include all taxes, and ticket fees.
Duration: approx 2hours
Age range: All
---
Finding Nemo Jr.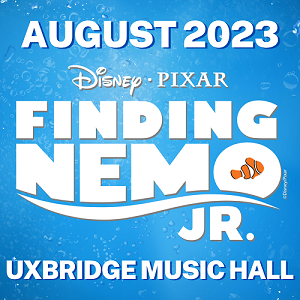 Join Vocally Inspired Performers on an epic journey across the Big Blue World!
The beloved story of Finding Nemo is given new life with the addition of over fifteen dynamic musical numbers. This exciting and colourful story will delight audiences of all ages.
Over 30 talented local youth are featured in this musical adventure, bringing the crowd-pleasing elements that have made Vocally Inspired Performers so popular with local audiences for over a decade.
SYNOPSIS:
Marlin, an anxious and over-protective clownfish, lives in the Great Barrier Reef with his kid Nemo, who longs to explore the world beyond their anemone home. But when Nemo is captured and taken to Sydney, Marlin faces his fears and sets off on an epic adventure across the ocean, meeting many friends along the way.
All tickets are: $26.00 (adults), $21.00 (students) and include all taxes, ticket fees and Music Hall Improvement Fund. No refunds/exchanges once tickets have been purchased.
Age range: All ages.
Buy Tickets