November 2019
Hi ,
The Uxbridge Music Hall is a great spot to catch a show.  The rest of November has something for everyone.  Don't miss some of these great events! 
Have you had a chance to watch Unity (1918)?   There are just 4 more performances before it's gone!
Unity (1918)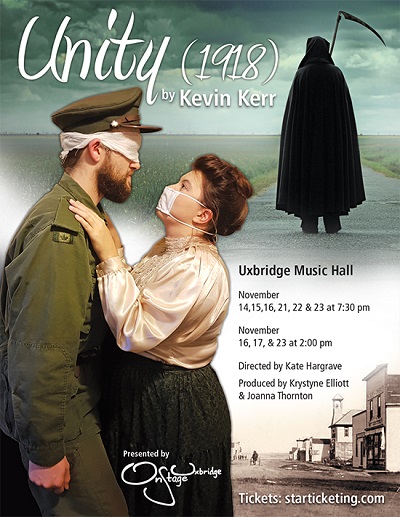 OnStage Uxbridge proudly presents: Unity (1918)
November 2019
As WWI draws to a close, the deadly Spanish Flu sweeps across the world. Rumours and fear spread through the small town of Unity, Saskatchewan, and a quarantine is placed to prevent an outbreak. When residents start falling sick, however, panic and blame abound.
In the midst of the outbreak, however, life goes on. Siblings squabble. Couples fall in love. Crops are harvested. Telephone operators gossip about — well, pretty much everything. This play handles both the enormity of the Spanish flu and the minutiae of small-town life with hefty doses of poignancy, hope, and biting humour.
"A work of powerful and moving familiarity, a kind of secular liturgy that celebrates love, sex, death, and the sorrowful mysteries of war and plague. It's also painfully funny." — Globe & Mail
All tickets are: $25.00 and include all taxes, ticket fees, and Music Hall Improvement Fund. Subscriptions can be purchased for all three OSU productions by clicking on the subscription tab up until November 23, 2019.
Groups of 10 or more, tickets are $20.00.
Chicago Plays The Stones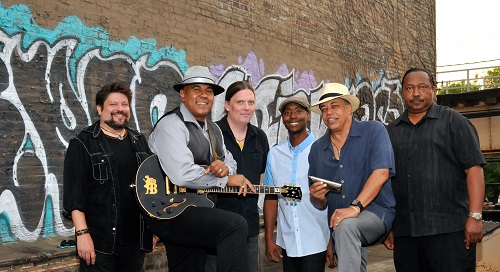 Chicago guitar-slinger and vocalist, Ronnie Baker Brooks and Chicago harmonica master and vocalist Billy Branch, among today's foremost inheritors of the Chicago blues tradition and keepers of the flame, unite live on-stage to give the songs of the Rolling Stones a remarkable rebirth. Brooks and Branch strip those rock songs down to their Chicago blues essence and bring the songs of Jagger-Richards back to their spiritual home and their point of origin.
There is no more seminal association in the history of rock and pop music than those ties that bind Chicago's electric blues with the Rolling Stones. They modeled their sound on the gritty, urban electrified and amplified music of Muddy Waters, Howlin' Wolf, Jimmy Reed, Little Walter and other Chicago blues pioneers. Through the lens of this musical kinship that has changed modern popular music and culture across the globe, CHICAGO PLAYS THE STONES takes audiences on a powerful musical journey that will delight and thrill lovers of the blues, fans of The Rolling Stones, and general music audiences alike.
The Concert: CHICAGO PLAYS THE STONES is an exhilarating, high-energy live stage performance that presents its audience with classic Rolling Stones songs arranged in the Chicago blues styles ranging from the early-traditional to modern- contemporary.
Performances also include songs from the 1940s Mississippi Delta by a young Muddy Waters up through the groundbreaking electrification of the country blues in Chicago by Waters and other pioneering Windy City blues artists. These blues sounds that traveled from the deep south up north to Chicago were the musical DNA that put the young Brits squarely on the path to become The Rolling Stones, the group that would eventually, with the Chicago blues at it core, have a lasting effect on rock and pop music.
Imagine the classic Rolling Stones songs as played by their Chicago blues heroes of the Golden Age such as Muddy Waters, Howlin' Wolf, Little Walter, Jimmy Reed, Willie Dixon or Sonny Boy Williamson. What would those songs sound like? Would they sound retro? Contemporary? Or, something new?
We invite you to a unique concert event featuring today's greatest Chicago blues artists to discover the answer to those questions. We invite you to travel back to the future to experience CHICAGO PLAYS THE STONES.
All tickets are: $70.00 plus taxes and ticket fees.
The Last Waltz Live – A Musical Celebration of The BAND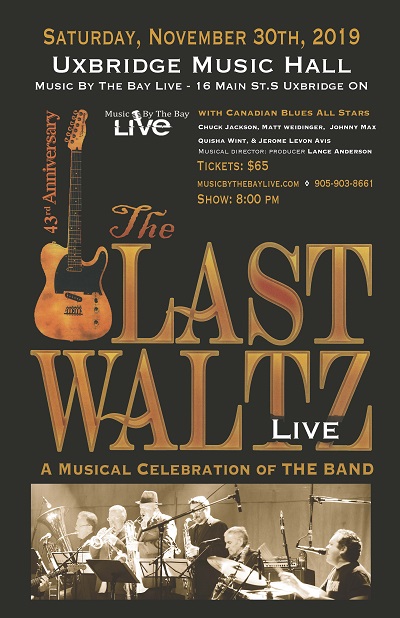 Music By The Bay Live presents: 'The Last Waltz – A Musical Celebration of The BAND – Live' celebrates the songs and music of the iconic Canadian band.
By popular demand, one of Ontario's most talked-about acts returns to Music by the Bay Live. This all-star Canadian cast of award-winning blues and roots musicians, under the direction of Juno award-winning producer and musical director, Lance Anderson, will be playing The Uxbridge Music Hall on November 30, 2019.
They are celebrating the 43rd Anniversary of THE BAND's last concert in 1976 and The BAND's amazing contribution to our shared Canadian musical heritage. This show, has thrilled audiences at the Mariposa Folk Festival (2017), Beaches Jazz Festival (2017), Kitchener Blues Festival (2017) Ottawa City Folk Festival (2016), CNE Bandshell (2015) (Toronto) and Norfolk County Fair (2016) (Simcoe). It has also Sold Out theatres in Ottawa, Peterborough, Ajax, London, Orillia, Cobourg, Collingwood, (and more). In 2016, they completed a successful tour of Western Canada.
This is an all-star line-up, featuring Jerome Levon Avis (Levon Helm's godson), on drums and vocals with special guests and a nine-piece band led by Maple Blues 2014 'Keyboardist of the Year' Lance Anderson. The performance will recreate the atmosphere of The Band's final concert, which was captured in Martin Scorcese's award-winning concert film, The Last Waltz.
On the American Thanksgiving of 1976 at San Francisco's Winterland Ballroom, The BAND performed what they called their "Last Waltz," and invited many of their friends to join in the celebration. These friends included Bob Dylan, Ronnie Hawkins, Van Morrison, and Canadians Neil Young and Joni Mitchell and others who performed with The Band on this special night.
In this homage to The Last Waltz, Anderson's special guests will perform the songs played and sung by these guest artists at the memorable 1976 concert.
Backed by a 9-piece band that includes Jerome Levon Avis, Terry Blersh on guitar, Dennis Pinhorn (The Hawks) on bass, Rob Gusevs (Blood, Sweat and Tears) on organ and Anderson (Joint Chiefs of Soul) on piano and vocals, this is a group of seasoned veterans who love the music. Anderson's band also features a stellar four-piece horn section including David Dunlop (Boss Brass) on trumpet, Gord Meyers (Blood, Sweat and Tears) on trombone and tuba, Chris Murphy (The Maple Blues Band) on tenor sax and Simon Wallis (Lighthouse) on baritone sax. An all-star band!
"What makes this performance special is the connection these musicians have to the music," says Anderson. "They love the music and perform these tunes from the heart."
Avis' dad, Bill Avis was The Band's road manager from the early days with Ronnie Hawkins through the Bob Dylan years, right up until The Last Waltz. Bill was especially close to Levon Helm and he has a wealth of stories about times on the road with The Band. Dennis Pinhorn is an ex-Hawk, who joined Ronnie Hawkins some years after The Band left to tour with Dylan. And Anderson himself, produced a piano and vocal recording, 'Live at the Wolf', with Garth Hudson, The Band's mercurial genius on the organ.
Anderson's production of The Last Waltz experienced rave reviews at this year's Mariposa Folk Festival, and returned to the Kitchener Blues Festival where it all started 7 years ago.
"Just stunning. Sang till I was hoarse. Well done!!!" — K.A. – Lively ON
The Band is a Canadian national treasure, with four members of the legendary roots music group originally from southern Ontario. In the 1960s, they were initially brought together as "The Hawks" by Ronnie Hawkins and later gained international recognition as Bob Dylan's band on his groundbreaking electric tours. This 120 minute performance of The Last Waltz includes a wide selection of fan favourites, such as The Band's 'The Weight', 'The Night They Drove Ol' Dixie Down', 'Up On Cripple Creek', 'Life is a Carnival', 'The Shape I'm In', 'Rag Mama Rag', 'It Makes No Difference', 'Ophelia' and many more.
Please note, artists performing subject to change.
All tickets are: $65.00 plus taxes, ticket fees and Music Hall Improvement Fund.
Other great shows coming to the Uxbridge Music Hall after November include: The Nutcracker, The 39 Steps, Mamma Mia, How the Lynch Stole..., Johnny Cash - World's Most Authentic Tribute to the Man in Black, The Mikado, Charlie Musselwhite, and Martin Barre - Celebrates 50 years of Jethro Tull.

---
Subscriptions are available to purchase for some of the events happening at the Music Hall.  Purchase a subscription and save!

Purchase a 2018/2019 season subscription for OnStage Uxbridge's productions of Unity (1918), The 39 Steps and The Mikado.
---
Make it an evening with dinner and then theatre by visiting one of the many great eateries in Uxbridge including Urban Pantry, The Tin Mill, Hobby Horse Arms, The Passionate Cook's Bistro and others.
Visit www.uxbridgemusichall.com for more great shows and to purchase tickets.
You can also contact us for more information.  Visit our website and click Contact Us.
Copyright © 2019 Uxbridge Music Hall, All rights reserved.
You are receiving this email as a special offering to patrons who opted in when purchasing tickets for production(s) at the Uxbridge Music Hall, which was processed via StarTicketing. If you do not wish to receive any more correspondence from us, please
Unsubscribe

.

Uxbridge Music Hall
16 Main St. S.
Uxbridge, ON. L9P 1H1
905-852-6761 (rentals)
866-808-2006 (tickets)