December 2019
Hi ,
The Uxbridge Dance Academy proudly presents The Nutcracker from Wednesday December 18th to Sunday December 22nd.  Tickets are selling quickly and we'd hate for you to miss out on this classic tale.
The Nutcracker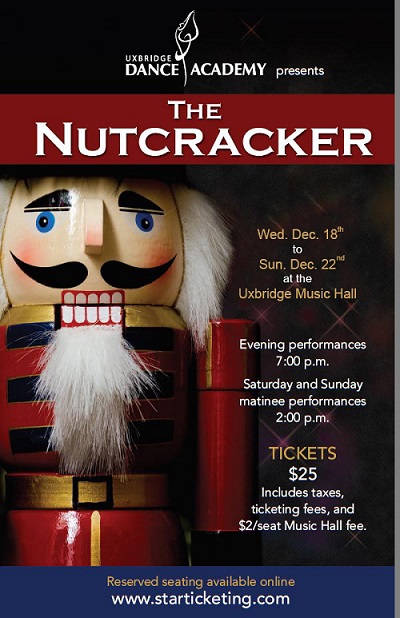 Travel back in time to a Victorian Christmas and thrill to the magic conjured up by Uncle Drosselmeyer, the evil Rat King, and our hero, the Nutcracker! Then it's on to meet the Sugar Plum Fairy and her special guests, Chocolate, Marzipan, Coffee and Tea in the Land of Sweets! Audiences of all ages will delight in the excitement, humour, and tenderness of this Christmas classic.
All tickets are $25.00 including all taxes, ticket fees, and Music Hall Improvement Fund.  Groups of 10 or more, tickets are $20.00.
----------
Other great shows coming to the Uxbridge Music Hall after December include: The 39 Steps, Mamma Mia, How the Lynch Stole..., Grace 2: Celebrating the Tragically Hip, The Mikado, Chalie Musselwhite, Johnny Cash - World's Most Authentic Tribute to the Man in Black, Tom Hambridge, and Martin Barre - Celebrates 50 years of Jethro Tull.  Get tickets to all of these by visiting uxbridgemusichall.com

---
Make it an evening with dinner and then theatre by visiting one of the many great eateries in Uxbridge including Urban Pantry, The Tin Mill, Hobby Horse Arms, The Passionate Cook's Bistro and others.
Visit www.uxbridgemusichall.com for more great shows and to purchase tickets.
You can also contact us for more information.  Visit our website and click Contact Us.
Copyright © 2019 Uxbridge Music Hall, All rights reserved.
You are receiving this email as a special offering to patrons who opted in when purchasing tickets for production(s) at the Uxbridge Music Hall, which was processed via StarTicketing. If you do not wish to receive any more correspondence from us, please
Unsubscribe

.

Uxbridge Music Hall
16 Main St. S.
Uxbridge, ON. L9P 1H1
905-852-6761 (rentals)
866-808-2006 (tickets)
---