February 2020
Hi ,
Ryleepuss Productions presents: Mamma Mia at the Uxbridge Music Hall.
ABBA's hits tell the hilarious story of a young woman's search for her birth father. This sunny and funny tale unfolds on a Greek island paradise. On the eve of her wedding, a daughter's quest to discover the identity of her father brings three men from her mother's past back to the island they last visited 20 years ago.
The story-telling magic of ABBA's timeless songs propels this enchanting tale of love, laughter and friendship, creating an unforgettable show. A large cast, non-stop laughs and explosive dance numbers combine to make Mamma Mia! a guaranteed smash hit for any theatre. A mother. A daughter. Three possible dads. And a trip down the aisle you'll never forget!
Run-time approximately 2.5 hours.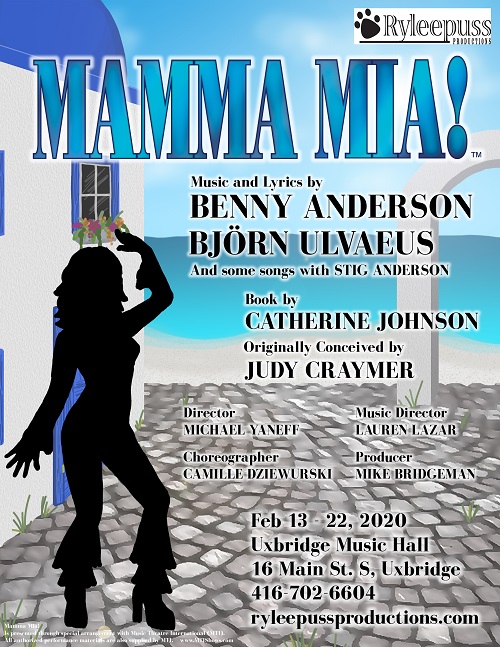 All tickets are: $25.00 for adults, $22.00 for seniors, $18.00 for students.
Groups of 10 or more: $22.00 for adults, $18.00 for seniors, $18.00 for students.
February 13th special performance rate: Buy one ticket at regular price ($25.00 - adult only), get the second ticket half price - that's just $18.75 per ticket!
All tickets include taxes, ticket fees and Music Hall Improvement Fund.
----------
How The Lynch Stole...

Inspired by "The Grinch Who Stole Christmas". This tells the story of Ruby Lynch, a grumpy eighth grader who always feels like an outsider. When the entire school gets excited about the annual school musical, she comes up with a perfect plan to ruin it for everyone with the help of her cousin Miles. They steal the sets, costumes, and lights the night before opening night. With New York critics stressing over their jobs and needing something fresh to write about, students in detention for social media obsession, students taking lessons on how to find the biggest "mathelete", or stressing over auditions and school bus rides - will the spirit of theatre prevail?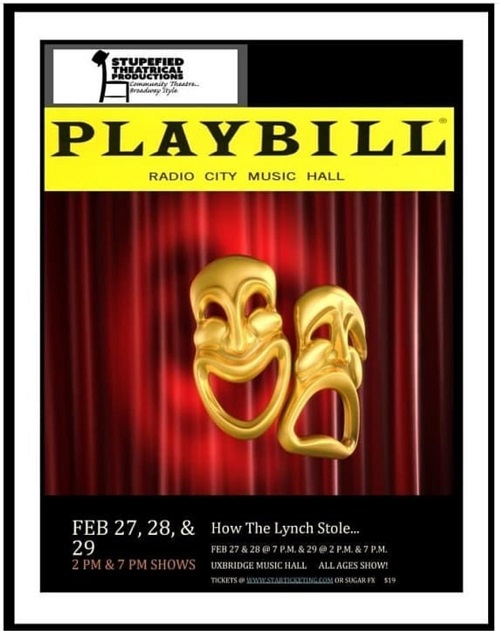 February 27 & 28 at 7:00 PM and February 29 at 2:00 and 7:00 PM.  All tickets are $19.00 and include all taxes, ticket fees and Music Hall Improvement Fund.
----------
Other great shows coming to the Uxbridge Music Hall include: Grace 2: Celebrating the Tragically Hip, The Mikado, uxperience 2020, Chalie Musselwhite, Johnny Cash - World's Most Authentic Tribute to the Man in Black, Fall of a High School Ronin, Tom Hambridge, Have Yourself a Merry Little... and Sadie Sells Seashells, Martin Barre - Celebrates 50 years of Jethro Tull and, The Last Waltz - A Musical Celebration of the Band.  Get tickets to all of these by visiting uxbridgemusichall.com

---
Make it an evening with dinner and then theatre by visiting one of the many great eateries in Uxbridge including Urban Pantry, Hobby Horse Arms, The Passionate Cook's Bistro and others.
Visit www.uxbridgemusichall.com for more great shows and to purchase tickets.
You can also contact us for more information.  Visit our website and click Contact Us.
Copyright © 2019 Uxbridge Music Hall, All rights reserved.
You are receiving this email as a special offering to patrons who opted in when purchasing tickets for production(s) at the Uxbridge Music Hall, which was processed via StarTicketing. If you do not wish to receive any more correspondence from us, please
Unsubscribe

.

Uxbridge Music Hall
16 Main St. S.
Uxbridge, ON. L9P 1H1
905-852-6761 (rentals)
866-808-2006 (tickets)