Dear Visitor,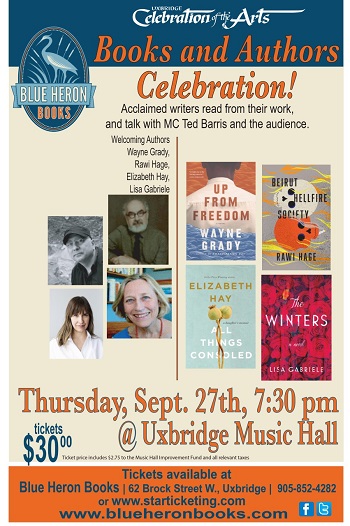 Books and Authors Celebration

Acclaimed writers read from their work, and talk with MC Ted Barris and the audience. Welcoming Authors: Wayne Grady, Rawi Hage, Lisa Gabriele and Elizabeth Hay.
RAWI HAGE was born in Beirut, Lebanon, and lived through nine years of the Lebanese civil war during the 1970s and 1980s. He immigrated to Canada in 1992 and now lives in Montreal. His first novel, De Niro's Game, won the IMPAC Dublin Literary Award for the best English-language book published anywhere in the world in a given year, and has either won or been shortlisted for seven other major awards and prizes, including the Scotiabank Giller Prize and the Governor General's Literary Award. Cockroach was the winner of the Paragraphe Hugh MacLennan Prize for Fiction and a finalist for the Governor General's Award. It was also shortlisted for the Rogers Writers' Trust Fiction Award and the Giller Prize. His third novel, Carnival, told from the perspective of a taxi driver, was a finalist for the Writers' Trust Award and won the Paragraphe Hugh MacLennan Prize for Fiction. His work has been translated into 30 languages.
ELIZABETH HAY is the author of the #1 nationally bestselling novel Alone in the Classroom, the Scotiabank Giller Prize-winning novel Late Nights On Air, as well as four other highly acclaimed works of fiction, His Whole Life, A Student of Weather, Garbo Laughs, and Small Change. Formerly a radio broadcaster, she spent a number of years in Mexico and New York City before returning to Canada. She lives in Ottawa.
WAYNE GRADY is the award-winning author of more than a dozen works of nonfiction and is also one of Canada's top literary translators. His debut novel, Emancipation Day was longlisted for the Scotiabank Giller Prize. Grady lives in Kingston, Ontario, with his wife, the novelist and creative nonfiction writer, Merilyn Simonds.
LISA GABRIELE is the author of Tempting Faith DiNapoli and The Almost Archer Sisters, and is an award-winning TV producer, writer and director. Her writing has appeared in Vice, Nerve, New York Magazine, The Washington Post,The New York Times Magazine,The Globe and Mail, National Post, Elle and Glamour. Her essays have appeared in several anthologies, including The Best American Non-Required Reading. She's also the author of the internationally bestselling S.E.C.R.E.T. trilogy, under the pseudonym L. Marie Adeline, a series that's been published in more than 30 countries.
All tickets are $30.00 and include all taxes, ticket fees and fee for the Music Hall Improvement Fund.
To purchase tickets to this event click here.
---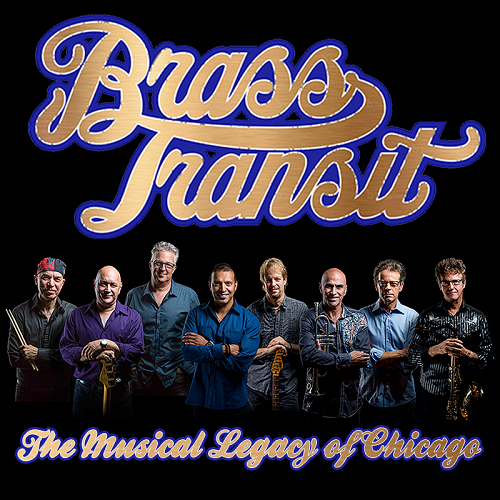 Brass Transit
The musical legacy of Chicago: Brass Transit.
Brass Transit was formed in 2008 and brought together 8 of Canada's most talented, accomplished and award-winning players. Their sole purpose was to pay tribute to the decades-long, multiplatinum songbook of CHICAGO.
Since then, the band has toured North America steadily, dazzling audiences with flawless performances and spectacular attention to detail. Hits like: Saturday In The Park, 25 or 6 To 4, If You Leave Me Now, Feelin' Stronger Every Day and Beginnings have left crowds in awe, evoking multiple standing ovations and comments like: "Spine-Tingling!" "Brought me back to my youth!" and "Perfect in every detail!".
Brass Transit goes far beyond just imitating the songs; they embody the music. They recently produced their first (self-titled) album, taking songs by other top artists from the seventies and recording them with horns in the CHICAGO style. The result is a fresh approach to some of the greatest hits of the era. They also recently scored their show for full symphony orchestra with original arrangements that are truly spellbinding.
Brass Transit will bring you back to the most memorable times of your life. Get ready to sing along!
All tickets are $45.00 in advance and $50.00 at the door. All ticket prices include taxes, ticket fees and fee for the Music Hall Improvement Fund.
To purchase tickets for this event, click here.
---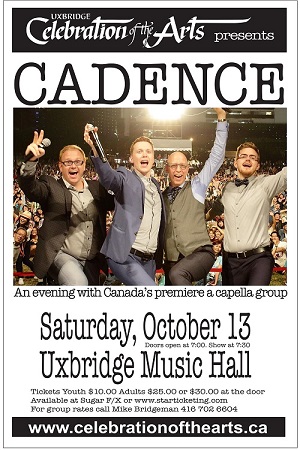 Cadence
The stage lights fall, the crowd goes quiet, and four harmonious voices rise up and fill the air. The melodies unfurl into something both familiar and fresh. What comes next may be a classic song by Joni Mitchell or Louis Prima. It may be an old bebop standard or cheeky arrangement of a 1980s hit. These are arrangements like you've never heard them before - containing all the richness of a full band, but performed using just four voices.
This is Cadence, Canada's three-time JUNO Award nominated vocal group! Based in Toronto, this a cappella ensemble has been wowing audiences across the country and around the world for nearly 20 years. Whether performing at sold-out jazz clubs and concert halls, at music festivals, or for educational outreach, the members of Cadence bring an infectious energy and uncanny verve to every song they sing.
Cadence's live shows are always a hit. They feature a hypnotic blend of complex harmonies, intricate arrangements, vocal dexterity, and just plain fun. On-stage antics and audience participation are par for the course at any Cadence show, but so too is a mesmerizing display of musical genius. What these boys can do with their voices needs to be heard to be believed.
All tickets are: $25.00 (advance purchase) for adults and $10.00 for youth. Adult tickets are $30.00 at the door. Ticket prices include taxes, ticket fees and fee for the Music Hall Improvement Fund.
For group rates plase call: Mike Bridgeman at 416-702-6604
To purchase tickets for this event, click here.
---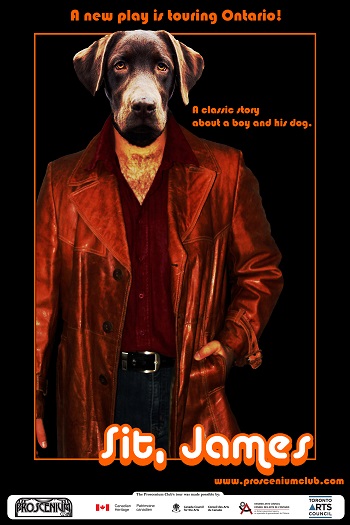 Sit, James
Back by popular demand, Celebration of the Arts presents another original work written by Joshua Bainsbridge for the Proscenium Club. Running from October 18 - 20, 2018 at the Uxbridge Music Hall, Sit, James follows on the success of last year's The Life and Death of John the Milkman.
James is a lonely young man living with his brother in the rundown farmhouse left to them by their parents. Invading cult members, a romantic Interest in his distant cousin and an invisible dog-man contribute to the growing tension between brothers, strained by 15 years of secrecy, anger and shame.
Comedic and serious, light and introspective, Sit, James is an exploration of trust, family and mental illness.
Doors open at 7:00. Show at 7:30
Information: www.prosceniumclub.com
Tickets: Youth $15.00. Adults $25.00 or $30.00 at the door. Prices include all ticket fees, taxes, and fee for the Music Hall Improvement Fund.
Available at Sugar F/X or www.starticketing.com
For group rates call Mike Bridgeman 416 702 6604
To purchase tickets for this event, click here.
---
Other great shows coming to the Uxbridge Music Hall after September/October include: 9 to 5: The Musical, Agatha Christie's: The Unexpected Guest, Jesus Christ Superstar, The Yes Men, The Fabulous Thunderbirds and A Funny Thing Happened On The Way To The Forum. Check out these great shows!

---
Make it an evening with dinner and then theatre by visiting one of the many great eateries in Uxbridge including: Urban Pantry, Laura's Casual Kitchen, The Tin Mill, Hobby Horse Arms and many others.
Visit: www.uxbridgemusichall.com for more great shows and to purchase tickets.
We're looking at building our list. Do you have a friend who would like to know more about the events happening at the Music Hall? Forward this to them and ask them to Subscribe to this awesome newsletter.
Putting a show on at the Music Hall? Check out some of the helpful pages on our website. Visit: uxbridgemusichall.com and click on: "About the Hall" and you'll see links for:
You can also contact us for more information. Visit our website and click: Contact Us.

Copyright © 2018 Uxbridge Music Hall, All rights reserved.
You are receiving this email as a special offering to patrons who opted in when purchasing tickets for production(s) at the Uxbridge Music Hall which was processed via StarTicketing.
To Modify or Unsubscribe from offerings and emails sent from the Uxbridge Music Hall, please Click here to: or
Uxbridge Music Hall
16 Main St. S.
Uxbridge, ON. L9P 1H1
905-852-6761 (rentals)
866-808-2006 (tickets)