Dear Visitor,

March on over to the Uxbridge Music Hall for two great shows you won't want to miss.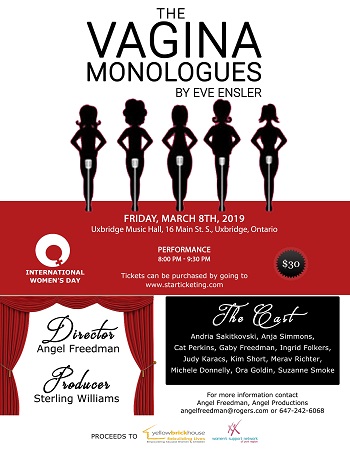 The Vagina Monologues
Friday, March 8, 2019 at 8:00 pm
Angel Productions presents: The Vagina Monologues
The Vagina Monologues revolutionized the world after it began in 1996, when Eve Ensler interviewed 200 women about the details of their feminine experience; anecdotes about sex, relationships, attraction, and sometimes violence. Eve turned these women's stories into a one-woman-monologue off-Broadway show, and from there it spread like wildfire.
The run away success of that show spurred many more productions around the world, with ensemble casts - often starring and supported by celebrities and notable activists.
Eve Ensler started The V-Day movement, which is a global activist initiative to end violence against women and girls. All the proceeds from every performance of The Vagina Monologues goes to support women's causes, centres and shelters within the community. This years show proceeds will be donated to Yellow BrickHouse and the Women's Support Network of York Region.
The 8 amazing women in this cast, comprised of local business owners, activists, authors, mothers, daughters, and talented performers, are all honoured and inspired to be a part of this production. The Vagina Monologues directed by Angel Freedman has been performed at The Flato Theatre in Markham as well as The Al Green Theatre in Toronto - mesmerizing audiences and receiving RAVE reviews. This years performance welcomes 6 new cast members and Producer Sterling Williams. The play takes place at The Uxbridge music hall on Friday, March 8. Tickets can be purchased at starticketing.com
All tickets are $30.00 and include all ticket fees, Music Hall Improvement Fund and taxes.
To purchase tickets, click here
---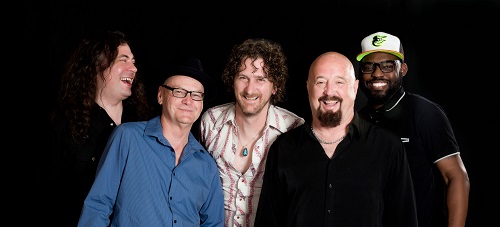 The Fabulous Thunderbirds
Friday, March 15, 2019 at 8:00 pm
For over 30 years, The Fabulous Thunderbirds have been the quintessential American band. The group's distinctive and powerful sound, influenced by a diversity of musical styles, manifested itself into a unique musical hybrid via such barnburners as "Tuff Enuff" and "Wrap It Up." Co-founder Kim Wilson, the sole original member, still spearheads the group as it evolves into its newest incarnation.
"We started as a straight blues band," vocalist and harmonica player Wilson says. "We now incorporate a mixture of a lot of different styles. We're an American music band and we're much higher energy than we were before."
In addition to Wilson, the current Thunderbirds line-up features Jay Moeller on drums, Johnny Moeller and Mike Keller on guitar, and Randy Bermudes on bass.
"To be in the T-Birds, you need to understand the different styles of music and different ways of playing," Wilson comments. "You have to be willing to adopt a more contemporary style. The guys we have now are able to do that." The band continues to tour extensively, in both the U.S. and Europe.
The thread throughout the T-Birds career has been the respect the group commanded for its peerless musicianship and devotion to the sounds of blues, R & B and rock 'n roll. In fact, Muddy Waters called Wilson his favorite harmonica player and vocalist. "Muddy Waters was very good to me," Wilson says. "He almost adopted me. I'll never forget him."
All tickets are $99.05 each including all taxes, ticket fees and Music Hall Improvement Fund.
To purchase tickets, click here
---
Other great shows coming to the Uxbridge Music Hall after March include: A Funny Thing Happened On The Way To The Forum, uxperience: Ux-Tra Ordinary People, Newsies, Cranial Crash & Epic Party, Brass Transit, and The Last Waltz. Check out these great shows and others!

---
Make it an evening with dinner and then theatre by visiting one of the many great eateries in Uxbridge including: Urban Pantry, The Tin Mill, Hobby Horse Arms, The Passionate Cook's Bistro and many others.
Visit: www.uxbridgemusichall.com for more great shows and to purchase tickets.
We're looking at building our list. Do you have a friend who would like to know more about the events happening at the Music Hall? Forward this to them and ask them to Subscribe to this awesome newsletter.
Putting a show on at the Music Hall? Check out some of the helpful pages on our website. Visit: uxbridgemusichall.com and click on: "About the Hall" and you'll see links for:
You can also contact us for more information. Visit our website and click: Contact Us.

Copyright © 2019 Uxbridge Music Hall, All rights reserved.
You are receiving this email as a special offering to patrons who opted in when purchasing tickets for production(s) at the Uxbridge Music Hall, which was processed via StarTicketing.
To Modify or Unsubscribe from offerings and emails sent from the Uxbridge Music Hall, please Click here to: or
Uxbridge Music Hall
16 Main St. S.
Uxbridge, ON. L9P 1H1
905-852-6761 (rentals)
866-808-2006 (tickets)