---
60's Folk Sing-A-Long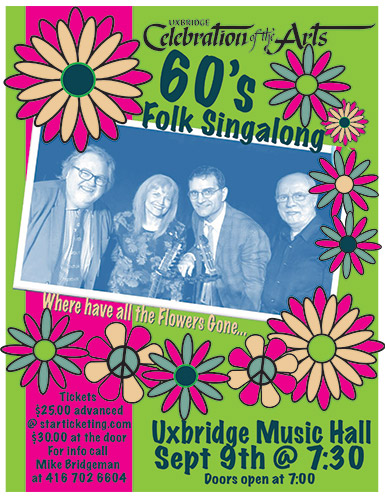 Sat. Sept 9, 7:30pm
$25.00 in advance, $30.00 at the door.
Celebration of the Arts presents a 60's FOLK SINGALONG at the Uxbridge Music Hall
It's been 60 years since the folk music revival of the 1960's emerged as the soundtrack of that decade's most important social movements. At Greenwich Village and Yorkville coffeehouses
and campus hootenannies, the youth of the era got together to sings like "Blowin' in the Wind", "If I Had a Hammer", and "500 Miles" and take on the injustices in civil rights and war. The
songs themselves were an unusual blend of rediscovered traditional tunes, fresh new commentaries and the just plain quirky. The revival struck much more than a musical chord.
The power of the revival comes to Uxbridge Music Hall with the 60's FOLK SINGALONG on Saturday, September 9, 2023 at 7:30pm. The show is an enthusiastic and heartfelt tribute to the
songs that defined the era ... of Pete Seeger, Peter, Paul and Mary, Ian and Sylvia, The Kingston Trio, Bob Dylan and more ... performed faithfully to the original arrangements by the Where Have All the Folks Songs Gone band. Read More/Buy Tickets