Dear ,
Disney's Comedy/Drama Musical: Newsies opens tonight at the Uxbridge Music Hall and runs until June 1st.  Only 2 short weeks for you to enjoy this great Youth Production.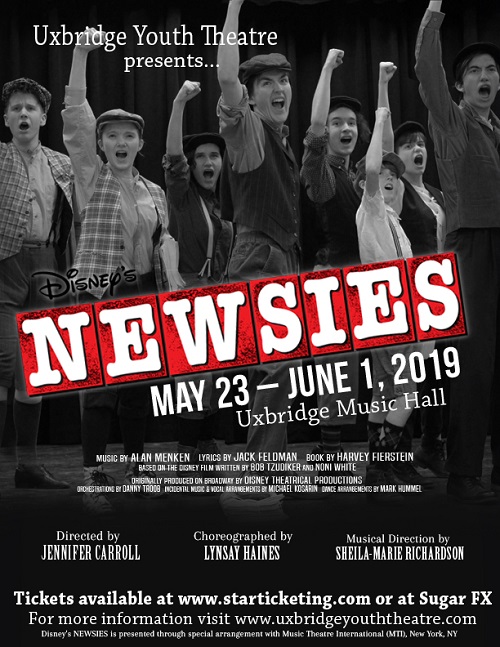 Uxbridge Youth Theatre is proud to present NEWSIES.
Set in turn-of-the-century New York City, Newsies is the rousing tale of Jack Kelly, a charismatic newsboy and leader of a band of teenaged "newsies". When titans of publishing raise distribution prices at the newsboys' expense, Jack rallies newsies from across the city to strike against the unfair conditions and fight for what's right!
Based on the 1992 motion picture and inspired by a true story, Newsies is a show packed with non-stop thrills and a timeless message, perfect for the whole family and every audience.
Tickets are $25.00 for Adults and $20.00 for Students. Ticket prices include all taxes, ticket fees, and Music Hall Improvement Fund.
Get your tickets here: Tickets
To watch a video featuring some of the actors from Facebook you can click here.
---
Other great shows coming to the Uxbridge Music Hall after May include, Fredrik Backman, Cranial Crash & Epic Party, Samantha Fish, Mamma Mia Sing-A-Long, Brass Transit, Cadence, Barefoot on the Moon, Coco Montoya, The Mystery of Edwin Drood, The Last Waltz, The 39 Steps, Mamma Mia and The Mikado  Check out these great shows and others!
---
Make it an evening with dinner and then theatre by visiting one of the many great eateries in Uxbridge including Urban Pantry, The Tin Mill, Hobby Horse Arms, The Passionate Cook's Bistro and many others.
Visit www.uxbridgemusichall.com for more great shows and to purchase tickets.
We're looking at building our list.  Do you have a friend who would like to know more about the events happening at the Music Hall?  Forward this to them and ask them to Subscribe to this awesome newsletter.
Putting a show on at the Music Hall?  Check out some of the helpful pages on our website.  Visit: uxbridgemusichall.com and click on: "About the Hall" and you'll see links for:
You can also contact us for more information.  Visit our website and click Contact Us.
Copyright © 2019 Uxbridge Music Hall, All rights reserved.
You are receiving this email as a special offering to patrons who opted in when purchasing tickets for production(s) at the Uxbridge Music Hall, which was processed via StarTicketing.
To Modify or Unsubscribe from offerings and emails sent from the Uxbridge Music Hall, please Click here to {modify}Modify your Subscription{/modify} or

Unsubscribe
Uxbridge Music Hall
16 Main St. S.
Uxbridge, ON. L9P 1H1
905-852-6761 (rentals)
866-808-2006 (tickets)