January 2019
Hi ,
Ring in the new year with a classic Hitchcock show.  The 39 Steps.
OnStage Uxbridge proudly presents: The 39 Steps at the Uxbridge Music Hall on January 16-26, 2020
An absurdly enjoyable, gleefully theatrical riff on Alfred Hitchcock's 1939 film.
Mix a Hitchcock masterpiece with a juicy spy novel, add a dash of Monty Python and you have the Tony and Drama Desk Award-winning whodunit The 39 Steps. This fast-paced treat is packed with non-stop laughs, zany characters, planes, trains, handcuffs, missing fingers, and some good old-fashioned romance!
All tickets are: $25.00 and include all taxes, ticket fees and Music Hall Improvement Fund.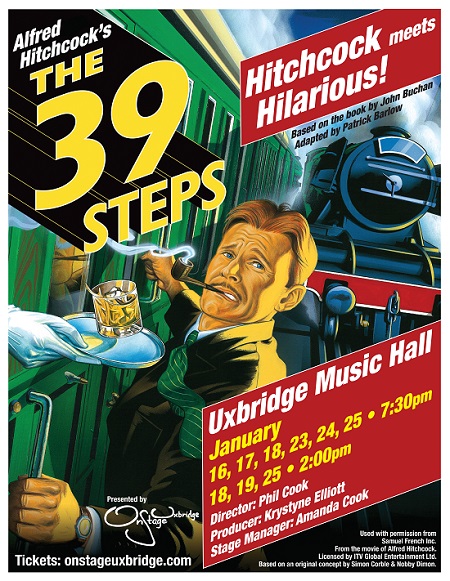 All tickets are $25.00 including all taxes, ticket fees, and Music Hall Improvement Fund.  Groups of 10 or more, tickets are $20.00.
----------
Other great shows coming to the Uxbridge Music Hall include: Mamma Mia, How the Lynch Stole..., Grace 2: Celebrating the Tragically Hip, The Mikado, uxperience 2020, Chalie Musselwhite, Johnny Cash - World's Most Authentic Tribute to the Man in Black, Tom Hambridge, and Martin Barre - Celebrates 50 years of Jethro Tull.  Get tickets to all of these by visiting uxbridgemusichall.com

---
Make it an evening with dinner and then theatre by visiting one of the many great eateries in Uxbridge including Urban Pantry, Hobby Horse Arms, The Passionate Cook's Bistro and others.
Visit www.uxbridgemusichall.com for more great shows and to purchase tickets.
You can also contact us for more information.  Visit our website and click Contact Us.
Copyright © 2019 Uxbridge Music Hall, All rights reserved.
You are receiving this email as a special offering to patrons who opted in when purchasing tickets for production(s) at the Uxbridge Music Hall, which was processed via StarTicketing. If you do not wish to receive any more correspondence from us, please
Unsubscribe

.

Uxbridge Music Hall
16 Main St. S.
Uxbridge, ON. L9P 1H1
905-852-6761 (rentals)
866-808-2006 (tickets)