Dear Visitor,
It's April and the Spring selection of great shows is in full swing at the Uxbridge Music Hall. Done to Death, a mystery-comedy to let you laugh away those winter blues. Uxperience: Battle of the Sexes and High School Musical are just a few to mention...

Done to Death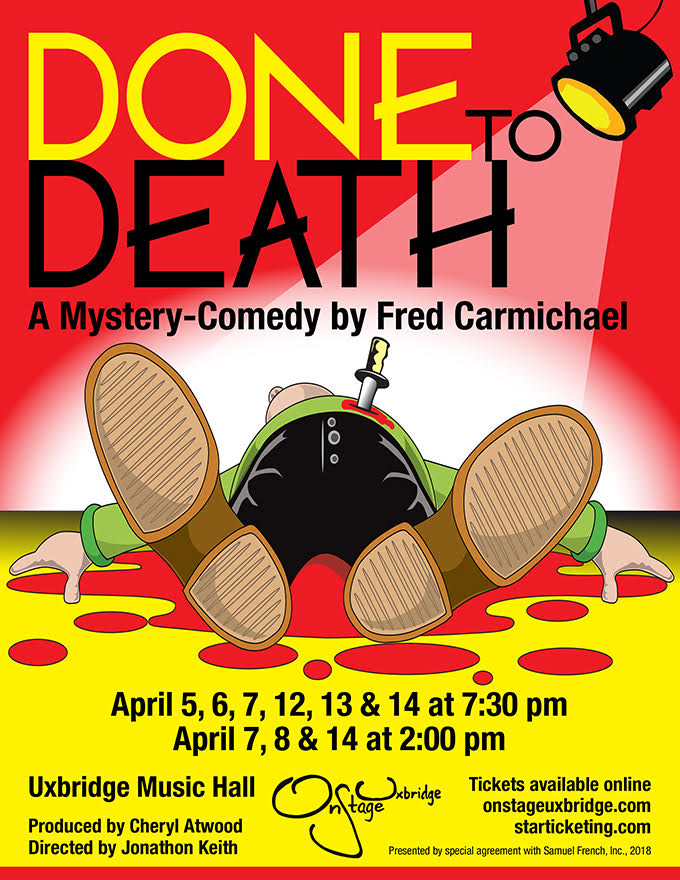 April 5-14, 2018.
OnStage Uxbridge completes their 2017/2018 season with a great murder-mystery comedy. Done to Death.
Once famous mystery writers involve the audience as they apply their individual methods to solving various murders. They include a couple who write sophisticated murders, a young author of the James Bond school, a retired writer of the hard hitting method and an aging queen of the logical murder.
"Ingeniously packed into the script is a parody of every mystery plot, hero, and villain created in the past fifty years. The story alternates between reality and imagination as five mystery writers wrestle with the problem of writing a television mystery series. All around them murders occur." – Glens Falls Post Star
"Carmichael plays a skillful and fast paced game of guess again with the audience…. Clever and rewarding." – Bennington Banner
Click here to purchase tickets & get more information!
---
Uxperience: Battle of the Sexes!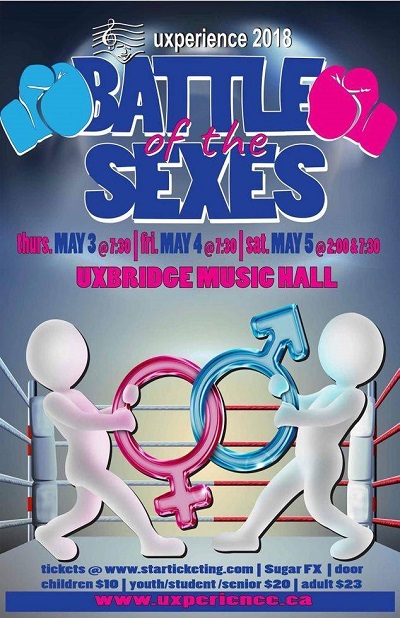 May 3-5, 2018.
A family friendly variety show with fun and entertainment for all ages. Come and enjoy the singing, dancing and the skits as these thespians and performers embark on a battle of the sexes.
Click here to purchase tickets and get more information!
---
And at the end of May begins...Uxbridge Youth Theatre's production of High School Musical!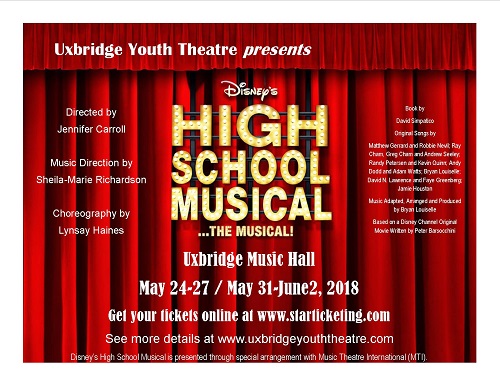 May 24 - June 2, 2018.
We're all in this together in the stage production of Disney Channel's smash hit "High School Musical".
It's the first day after winter break at East High. The jocks, brainiacs, thespians and skater dudes find their cliques, recount their vacations and look forward to the new year. Basketball team captain and resident jock, Troy, discovers that the brainy Gabriella, a girl he met singing karaoke on his ski trip, has just enrolled at East High. They cause an upheaval when they decide to audition for the high school musical. Although many students resent the threat posed to the "status quo," Troy and Gabriella's alliance might just open the door for others to shine as well. This is a show that's fun for the whole family
Click here to purchase tickets or get more information!
---
Other great shows coming to the Uxbridge Music Hall after May include: Quinn Sullivan, Bean the Magic Barista, and Fish Tale. Check out all of the great shows right near you.
Make it an evening with dinner and then theatre by visiting one of the many great eateries in Uxbridge including: Urban Pantry, Laura's Casual Kitchen, The Tin Mill, Hobby Horse Arms and many others.
Visit: www.uxbridgemusichall.com for more great shows and to purchase tickets.
We're looking at building our list. Have a friend who would like to know more about the events happening at the Music Hall? Forward this to them and ask them to to this awesome newsletter.
Putting a show on at the Music Hall? Check out some of our helpful pages on our website. Visit: uxbridgemusichall.com and click on: About the Hall and you'll see links for: Technical Specifications, downloads, promotional tips, tricks and link and a link to list your event.
Copyright © 2018 Uxbridge Music Hall, All rights reserved.
You are receiving this email as a special offering to patrons who opted in when purchasing tickets for production(s) at the Uxbridge Music Hall which was processed via StarTicketing.
To Modify or Unsubscribe from offerings and emails sent from the Uxbridge Music Hall, please Click here to: or
Uxbridge Music Hall
16 Main St. S.
Uxbridge, ON. L9P 1H1
905-852-6761 (rentals)
866-808-2006 (tickets)